Iowa State really missed an opportunity to end the 24 year drought in Stillwater. The Cyclones had too many lapses in defensive intensity.
A split in Oklahoma is better than ISU has done in more than 15 years, but when OSU is mediocre, and playing in front of a half-empty crowd, Cyclones need to find a way.
Chris Allen kept Iowa State in the game. He's streaky, but when he's on, look out.
True freshman Le'Bryan Nash is a game-changer. As in make a shot, swat a shot, change the game.
Royce White is so much fun to watch. A man that big who passes that well. But until While can consistently make free throws, he's a liability at crunch time.
You could hear Fred Hoiberg's frustration come over the radio after the game. Hoiberg knows one got away.
Talking to Larry Eustachy Tuesday, I was reminded how refreshingly candid Eustachy always was. Funny too. It was nice to hear Eustachy is happy and sober at Southern Miss, not to mention 20-3. I was surprised to hear Eustachy say he didn't really enjoy those back-to-back Big 12 championship seasons at Iowa State. He said between the drinking and the pressure, it was all a blur. Cyclone historians know how remarkable those two years were. Eustachy also expressed thanks to Hoiberg for inviting him back, and said the standing ovation he received was his happiest moment at Hilton.
Eustachy at Southern Miss. (Courtesy Commercial Appeal.com)
Tyler Sash says he now has a key to New York City but not Oskaloosa. Osky, you're on the clock. What up?
NPR is really introducing a sports segment? Has NPR been watching SoundOFF?
Many Hawkeye fans are disappointed Kirk Ferentz didn't go outside the current staff for a new defensive coordinator. There's a growing feeling Hawk football has grown stale and needs some new blood and fresh ideas. No one should be surprised Ferentz promoted Phil Parker from within. Ferentz's loyalty is one of his admirable qualities, though critics think it's also a blind spot.
The Big Ten is not suddenly endorsing the idea of a college football playoff because it's concerned about fans. The Big Ten just learned how much money it made by having a conference championship game and sees an opportunity for even more cash. It's always about the money.
Bradying is trying to become the new Tebowing, but it's lame.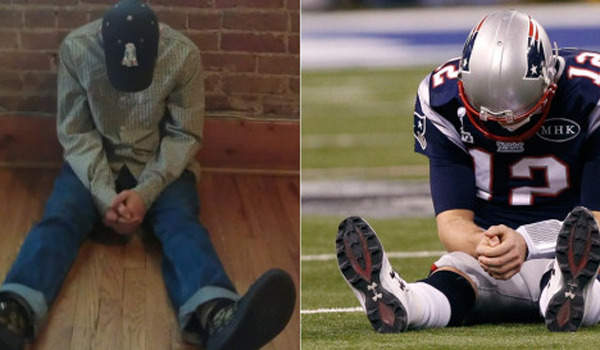 Bradying. (Courtesy YardBarker.com)