By Zach Borg
The University of Iowa's gotten into the act that Iowa State has perfectly crafted-going inside the postgame locker room. Here's the scene after Iowa's 72-65 win at Wisconsin courtesy Iowa's Facebook page:
https://www.facebook.com/video/video.php?v=349053605109194
Love seeing Fran McCaffery join in. I don't expect him to ever pull a Paul Rhoads, but he sure does seem invested in this program. But I can't help but thinking one thing when I watch-for all of the angry faces we've seen from Fran, how ironic is it that when he finally has something to be happy about his back is turned to the camera?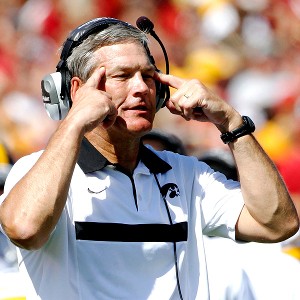 We're getting an interesting split on Kirk Ferentz after the first SoundOFF of 2012. Half of them are critical of us for saying he needs to be better with the media. The other half thinks we're too soft on Ferentz. I'd say that's a pretty accurate reflection of where Hawkeye fans are on Ferentz. I'd love to see his attitude toward media get better (contrary to some thought we aren't out to "get" high profile coaches).
As I was in Tempe with Trent Reicks covering Iowa I will admit I was envious of watching Chris Hassel and Brandon McCauley's Pinstripe coverage for one thing-the inside access before the game. ISU and Paul Rhoads let media follow them everywhere on their tour of the Big Apple. I do wish Iowa would open themselves more because the Hawkeyes do have great guys whom they could showcase to media too. But......
....I think it's fair to wonder if the Cyclones were a little too distracted with all the sight seeing. I understand the human side of Rhoads that wants his players to enjoy the experience of being in a bowl and in New York. It's not like this is the national championship game, so there should be some opportunities for the players to enjoy themselves. But this was not a team that looked sharp and prepared for Rutgers. I wonder if Rhoads will be more restrictive of his team after losing one of these bowl games.
Kyle Orton got his revenge on Tim Tebow and the Denver Broncos. The Chiefs went into Denver and won 7-3. Orton didn't play great, but he was far better than Tebow (6-22, 60 yards, fumble and interception). He admitted afterward what we all knew-it meant more than any other game. You have to feel good for the Southeast Polk alum. He went into a place where he was blamed for everything but the down economy, with Denver's playoff life on the line, and walked out with a win. Wasn't pretty, but according to the Tebow fans during his win streak, all that matters is he wins.
Guessing Kyle Orton Gets This Photo Blown Up Into A Giant Glossy Poster
Then a funny thing happened-Oakland blew an AFC West title by losing to San Diego at home. Denver wins the AFC West anyway. Pittsburgh will play at Denver next week with Tebow Time looking to be dead. Hey, if the guy really is the savior of the Bronco franchise, what better time for a resurrection of Tebow Time? It's going to take a miracle for them to beat Pittsburgh anyway......