By Zach Borg
The Hawkeye men lose in non-conference by 16 to something called Campbell. Then they win their first two road games in the Big 10 at Wisconsin & Minnesota, only to lose by a combined 63 in their next two games to Michigan State and Ohio State. So of course logic says they would dominate #13 Michigan by 16 right?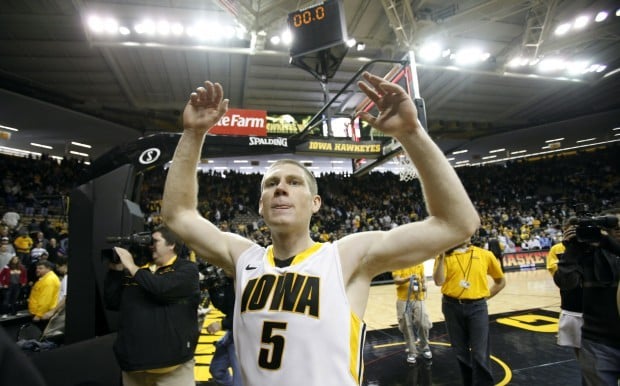 Courtesy AP
Wisconsin is probably still the Hawkeyes most impressive win being as it was at the Kohl Center. But this might have been their most COMPLETE win. Iowa controlled a good Wolverine team virtually wire-to-wire.
Today's win is Iowa's eleventh, matching their entire total from last year (they were 11-19). Their third Big Ten win is just one off of last year's pace (they went 4-12). We've seen they aren't in the elite class of the league, but the Hawkeyes have CLEARLY made progress. A lot of Big Ten teams on the bubble can't be looking past, or looking forward, to playing Iowa anymore. The NIT is a reasonable goal and would be a nice step forward.
Courtesy AP. It's okay to look that goofy when you win
Iowa State was in control at #10 Kansas.....for about 35 minutes. Down the stretch, though, they once again couldn't get out of their own way. Though they were much better on the glass (out-rebounded KU 46-38) their 16 turnovers led to a big KU run that ultimately led to their demise, 82-73.
This is a good Iowa State team. They should at least be in the middle of the Big 12 pack (their next opponent, Oklahoma State, lost by 41 at Baylor today), and for most fans, that's good enough after the last couple of years.
But the players and coaches CLEARLY aren't happy with moral victories. They do believe they can contend for the Big 12 or an NCAA Tourney at-large bid. I believe they can too, but they just don't seem ready for primetime. They make too many mistakes and just can't close out. It shows against the elite teams like Mizzou and Kansas.

Just realized he shouldn't have cut that sweet Mohawk?
 The frustration showed a bit on the bench today. After KU had gone on its big run Fred Hoiberg and Royce White got in a bit of a dust up. White ignored Hoiberg as he tried to talk to him going into the timeout huddle, and then was visably upset when he learned he was being benched after the timeout. Hoiberg said afterward he just wanted to give White a breather when it appeared he was dragging. White had his usual line with a usual haircut (he shaved off the Mohawk)-18 points and 17 rebounds. Whether it's McCaffery's chair slamming at Iowa, or White's emotion at Iowa State, I like it. These programs just now are being competitive, but they want more and they aren't settling for the improvements they've made.
We might not get a team in the NCAA Tournament in men's or women's ball. Bill Fennelly's Cyclones are 0-4 in the Big 12 after a 59-33 home loss to Texas A&M. Bluder's bunch in Iowa City isn't bad but they don't have an impressive resume. UNI is probably the best women's hope (as they possibly are in men's ball too), but even they seem to be having a tougher time in the Valley this year.
Mi'Kail McCall is taking a road often traveled by Hawkeye running backs. McCall told the Des Moines Register's Randy Peterson that he's transferring to Southern Illinois. Makes sense because he is an Illinois native and has a sister going to that school. Jewel Hampton also transferred there and had over 1100 yards last year. He declared for the draft this week, and this is the same school that also produced Brandon Jacobs.
The McCall news first broke, surprise surprise, on his Facebook page. That's the same place he broke the news that he was leaving Iowa prior to the Insight Bowl. Knowing SIU coach Dale Lennonfrom his days at North Dakota, I think Mi'Kail might want to tone down his social media profile. Lennon hates that kind of stuff as much Kirk Ferentz did.
Maybe God has a crush on Giselle? Courtesy AP
A poll earlier said 43 percent of people believe Tim Tebow has had divine intervention in his wins this year. The Patriots crushed the Broncos 45-10 in the second round of the playoffs. I think New England is just a really good team. But if God in fact does give a crap about a football game between millionaire athletes, it's clear he loves Tom Brady more than Tebow.
What is it about the 49ers and unbelievable playoff catches? What a charmed franchise history, and what a game against the Saints.