By Zach Borg
Mind blowing stat of the night-the Iowa Hawkeyes shot 63 percent at Indiana. They lost 103-89. Huh? So much for Fran McCaffery saying they'd emphasize defense after the Nebraska loss.
As I type this I think Cody Zeller just dunked again.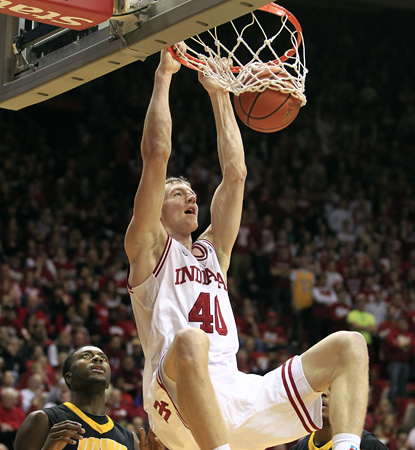 Yep, still dunking.
This may not be a very good good week for Iowa, but for better or worse, this is still a fun team to watch because you never really know what you'll get. On any given night they can play up or down to their competition. Nothing should really surprise us with this group, yet almost every game something does. Either way, it's usually entertaining.
Iowa State's win over Kansas hasn't sold everybody on the Cyclones being a team worthy of a tango in the Big Dance, particularly Doug Gottlieb as one SoundOFF caller noted. I do think if they selected today ISU would be in. Their worst loss of the season, at Drake, now looks better with the Bulldogs win over Wichita State and them playing well in a tough Valley. They don't have any other major slip ups.
However, there's a LONG way to go and a tough road ahead that continues Tuesday with a Kansas State team that has to come in pissed off after an upset loss at OU. Lose to the Wildcats and its almost back to square one. Speaking of Oklahoma, don't think the remaining games with the Sooners and Cowboys will be picnics either. Life on the bubble is always high risk and high reward, though, and ISU has a great chance to pad a resume. 20-21 wins and they are in.
Kudos to Bill Fennelly. After the ISU women got off to their worst start ever in Big 12 play in his tenure he's gotten them turned around. The Cyclones narrowly lost by two at Texas A&M just a few weeks after they played one of the all time clunkers against the Aggies in Hilton.
The first time I ever remember watching a television newscast John Bachman was anchoring. I grew up watching him and Ed Wilson. Even when I moved to Denver I never saw anyone in that market who had the same presence on air. He truly is a family man and loves this community. I'm sure he'll enjoy more of each when he retires in November.
As I've barely been here a year I can't say I know him nearly as well as Keith or the veterans. Like a lot of you, he's so personable on air that I felt like I knew him. Getting the chance to work with him he's just as good a person as I thought he was. Dan Winters is a phenomenal talent and person and will do a fine job when he takes over beginning in December. But whether I work four years or forever in this town, John Bachman will always be the standard for what a newsman is, and even though I work in the toy department, an example for me going forward in my career.
The UNI and Drake women played an overtime game at the Knapp Center this afternoon. It was the fourth overtime in the building in less than 24 hours (including the men's triple OT win vs Wichita State. The UNI women beat Drake 82-77 in this one), and I was there for all of them. I'm tired and going to bed now. Enjoy the Cold Cuts (Montages, not the sandwiches).