Christmas movies I watch every year: Elf, Scrooged, It's a Wonderful Life, Christmas Vacation, and Home Alone...
Can I count Die Hard as a Christmas movie? Guess not. Too much killing...
Bob Seger sang Little Drummer Boy at Wells Fargo Arena Tuesday night. That song is my Christmas favorite. I also enjoy the odd, but somehow works pairing of Bing Crosby and David Bowie, which also includes Peace On Earth...
The Seger song I can't take any longer: Old Time Rock & Roll. If it's not the most played rock song in history, especially when drunk people are dancing, it's in the conversation...
Nice to see Iowa State's Kelechi Osemele named Sports Illustrated first team All-America. When I talked to Osemele Tuesday, the 6-6 340 pound tackle told me he'd love to carry the football just one time in the Pinstripe Bowl. Come on coach Rhoads, make this happen! Osemele also said when he walks onto an airplane, passengers cut him the look of "man, I hope that big dude's not sitting by me". He needs two seats...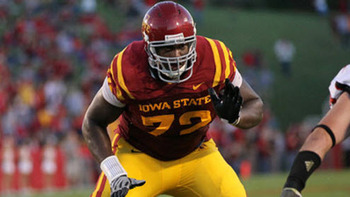 This is a big man.
Sports Illustrated names a first and second team, plus honorable mention. The magazine had 15 receivers and not one was named Marvin McNutt. Ridiculous...
Early DVR alert: SoundOFF on December 25th will be a Hazzle Dazzle Christmas Special...