(By Zach Borg)
As the bowls now basically have their own selection Sunday there is a certain madness to it. In the end I'd still love a playoff like the FCS has. However, there is some good in the bowl system. Realistically there's only a handful of teams that you can expect to be in the mix for titles every year, along with a few surprises, so I do think for programs that aren't in that upper echelon its not a bad thing for them to have a reward to play for as well. I was in Ames and talked to the Cyclones about their bowl announcement, and you could see how much this chance means to them. There has to be a medium in which the top ranked teams/conference champions can play in a playoff while other bowls still exist.
I think both the Cyclones and Hawkeyes have to be happy, or at least not too upset, with their bowl destinations. I think they are both better than other alternatives in Detroit or Houston.
Whatever apathy Hawkeye fans had toward their bowl game was erased the moment Iowa drew Oklahoma in the Insight Bowl. Fans love heading to Phoenix/Arizona in December, and they're playing a name brand team in OU. Even some added zest to this year's game that last year didn't have with Bob Stoops being an Iowa alum. As well as each fan base travels, it will have a great atmosphere.
We'll have nearly a month to break down matchups, but on first glance it looks like OU should win and maybe win big. Still, for as much heat as Kirk Ferentz has gotten this year, his teams seemed to always be very well prepared for their bowl games. Mizzou and South Carolina also looked to be impossible going in as well in previous years. And much like last year, the staff has to know it will be a much easier offseason if they can get an 8th win against a solid bowl opponent.
Quite the contrast for Iowa State in their final two games. They'll go from playing in the Little Apple in Manhattan, Kansas, to playing in the Big Apple in Manhattan, New York.
I'm sure Cyclone fans (and probably the football players and staff) were hoping for the Holiday Bowl. Yes I know Iowa State had a tough schedule, but realistically you can't expect them to leap over Texas or Mizzou who they lost badly to in the regular season. Besides, I still think the Pinstripe Bowl should be exciting. Yes it will probably be cold, but New York is New York. Cue Sinatra and all that. It's a chance to experience one of the world's greatest cities and play in a fantastic venue. As a fan or player, if you can't go to a BCS bowl, that's really all you can ask for.
Now for the bad news-it's basically a home game for Rutgers. They've played in Yankee Stadium already once this year and should get a good contingent come from New Jersey. I'm sure Cyclone fans will travel well, but it still could look like a road game. Then again, perhaps it's the perfect way to end the year for Iowa State. They will probably be an underdog once again.
If you are a Hawk/Clone fan who is still grumbling about the destination, it could always be worse, signed-the Potato Bowl in Boise between Ohio and Utah State (cool name for a bowl though), any bowl game in Alabama, Little Caesers Bowl between Purdue and Western Michigan (in lovely Detroit), or the Fight Hunger Bowl in San Fran between Illinois & UCLA (or as I call it the "Interim Bowl").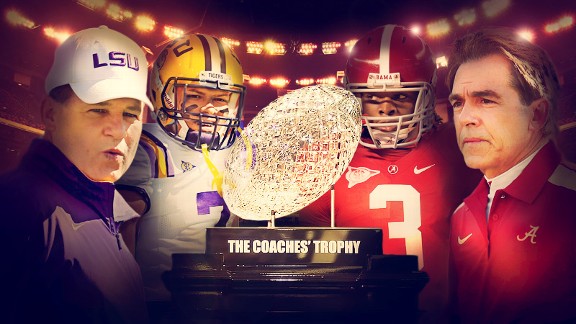 As for the BCS title game....meh. Are they probably the two best teams? Yes, though we'll never really know until there is some kind of playoff. But really, how interested is the casual fan? The first edition was a 9-6 snoozer that was overhyped, and I'm sure it will get even more ridiculous press from the Worldwide Leader with more than a month till the game. If you're an SEC or southern football fan I'm sure it's great, but it's too regional to appeal to most on a national level. Early on my guess is LSU wins this game by a couple touchdowns. Most bowl game rematches are never as good as their original, and add to it that Jordan Jefferson is now entrenched as the starter. The Tide can't bank on Jarrett Lee being there to stink it up.
Nice at day, blizzard at night for UNI?
The Northern Iowa football team gets lost amongst the FBS schools in this state, so I'm happy that they will get a primetime game all to themselves. The Panthers game at Montana will be a Friday night game on ESPN at 7 PM CST. As happens to be the case a lot with the Panthers another event in central Iowa (Iowa-Iowa State men's basketball play at the same time) will overshadow it to an extent, but it really will give them a national stage as they will likely be the only football game on that night in the country. And the atmosphere in Missoula will be fantastic. I attached one of my photos last year above, but it really is a spectacular venue to watch a game as much for the scenery as the game itself, and under the lights it will be pretty too (though probably very, very cold).
I guess if the Packers lost to one of their final four opponents (home for Oakland, Chicago, and Detroit and on the road at Kansas City) it wouldn't be the strangest thing to ever happen in football. But I think it will take an act of God or Aaron Rodgers having his arm amputated for that to happen. The Packers last real chance at a loss was in New York. The Giants have historically killed perfect seasons before (The 2007 Patriots in the Super Bowl and in 1998 they ended Denver's run at a perfect season), but Green Bay took their best shot and still came out celebrating. The Packers are a near lock to go 16-0, but until somebody actually gets to 19-0 its hard to say they will finish the deal. Anything can happen in the playoffs.