(Zach)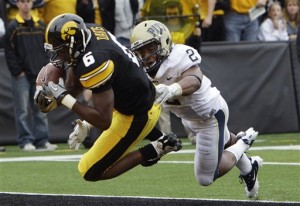 Chris said it all pretty well, but just gonna throw in my two cents from a wild Saturday on the sidelines in Iowa City.
-When Iowa pulled to within 3, it felt like the game was over. Kinnick was electric and Pitt looked stunned and scared. After so many closes losses the last two years, about time the Hawks get the breaks.
-Stanzi used to be the Manzi, so does this mean Vandy is the Mandy (crap I just gave someone an excuse to play the Manilow song)? He'd looked lost since the end of the first quarter at Jack Trice last week. He played better in the up-tempo no-huddle, and Iowa may need to rethink their offensive philosophy going forward.
-The game may have started to turn in the third on Keenan Davis circus catch near the sideline. Pumped life into a crowd ready to hit the exits. Marvin McNutt is the headliner, but that group of receivers (including Kevonte Martin-Manley) puts on quite a show.
-Nice to see Iowa try to bring the tight ends, Zach Derby and Brad Hermann, back into the passing game. They'd been non-existent the first two weeks. Figure out how to make them a consistent part of the passing game and the Hawks are that much more dangerous.
-Only problem: this is a one dimensional team. Marcus Coker runs tentatively and has fumbles on the brain. Kirk Ferentz played the preseason injury card after, saying it had slowed Coker down a bit. Maybe, but they've got two more weeks before things get real in the Big 10. They've got to get some kind of running game going.
-Defense looked better. Did a good job against the nation's leading rusher, Ray Graham. Mobile quarterbacks still kill them, but Tino Sunseri was nothing special. Step forward but beware, as I said above, it gets real in the Big 10 very soon.
-As a football fan, you can't ask for a better run of games than we have the last three weeks. UNI/ISU in the opener, CyHawk last week, and Pitt/Iowa and UCONN/ISU this week. I don't know if we're in store for more of this come conference play. What I do know is there probably won't be much drama next week with the Cyclones off and Iowa playing something called Louisiana-Monroe.