(Zach)
I had to go do an interview with the Iowa Energy and when I stepped out of watching the Masters, Rory McIlroy had a one shot lead. When I got back to watching he was suddenly five shots back. He should have listened to his caddie Romeo/Cheech and lay up with the seven iron instead of taking that 12.
McAvoy Thinks McIlroy's Final Round Was Painful
Kidding aside, maybe it was inevitable that a 21-year old would fade on final round Sunday. And maybe it's inevitable that he will eventually have his day and win a Major, as several announcers were commenting. Or maybe not. Remember when we said that about a young pup named Sergio Garcia after he nearly beat Tiger Woods in the PGA Championship? People said he'd have his day in the Major sun too. That was in 1999. You can NEVER count on winning Majors.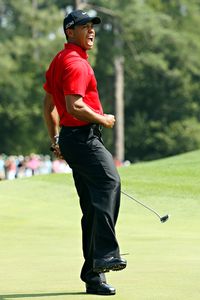 Speaking of Mr. Woods, I didn't think he had a prayer coming into the day. Then after his front nine, I thought the rest of the field didn't have a prayer. Either way, guessing the ratings spiked. People who love or hate Tiger are like people who love or hate SoundOff. If you love Tiger/SoundOff, you're watching anyway. If you hate Tiger/SoundOff you'll curse it out and swear you'll never watch again, yet you'll be glued to your TV EVERY TIME.
The putter betrayed Tiger down the stretch as it did most all weekend long. Is Woods back? No. He's shown flashes of his old greatness several times now, but he can't sustain it. And it was a YOUNG field in contention for the title today. In Tiger's prime veteran golfers would wilt when he made charges like the one he did today. Further proof he's lost his invincibility when guys who look like they just got their drivers license are beating him.
So our winner is something called a Charl Schwartzel? In Louis Oosthuizen fashion I'm sure he'll go back to anonymity soon, but at least we've got great headlines for this win. I can see it now: "Charl in Charge!" "The Schwartz(el) Was With Him!" As a SoundOff caller said best, maybe he can now afford to buy the letters E and S to put on the end of his first name.
Fred Hoiberg has some nice transfers and recruits coming in. Will they pan out? Who knows, but even if they don't, it won't cost Hoiberg. The Mayor has more job security than ANY second year coach in America, and will get plenty of time to build ISU. Personally, I think that's a good thing. Unless you're a Lickliter-type and it's clear this thing ain't working, far to many coaches don't get enough time to rebuild programs thanks to fan bases and athletic departments that aren't patient.
I was warned about it before joining the WHO sports staff, and Andy's "Albert Pujols is leaving us" agony is everything it was advertised to be. It's kind of like watching a train wreck in that super slow motion replay they show in baseball and football games. I'm thinking about starting a pool on what Andy will do if (or should I say when?) Pujols is traded. For my money, I think Andy will go all "Office Space" on a printer.
Andy, Dave Price, and Bill Fennelly On July 31st
I wish my Rockies were in the NL Central division. They'd have no problem winning that division because it stinks worse than the bathrooms at Memorial Stadium in Lincoln on Husker gameday. And the kicker is, it's been that way for a while now. Since the Cardinals won the World Series in 2006 (and don't forget they only won 83 games before they caught fire in the playoffs), four Central champs and one Wild Card team have gone 1-15 in the playoffs. The worst teams in the NL seem to be clustered in the Central and, since you have to play every team in your division nearly 20 times, it's gotta be tough for the eventual champ to step up to teams out of the West and East who go through tougher gauntlets in the regular season (a big reason I think the 08' Cubs and 09' Cards flamed out). The Reds will probably have an even easier road this year with all of St. Louis' problems.