(Zach)
Great to have Keith back in the office and back in the saddle. Even better to hear how well his mom is doing.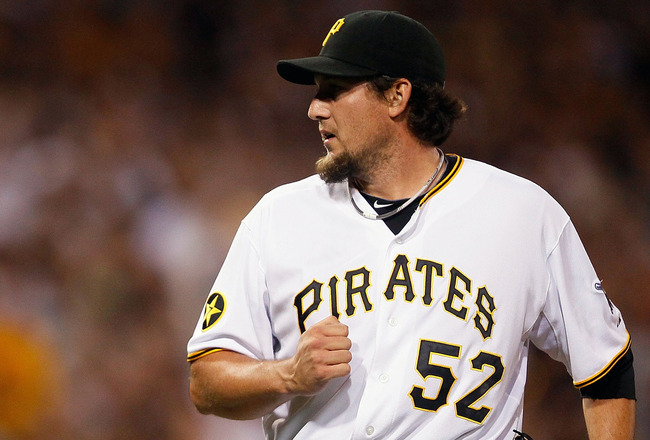 I don't know what is more impressive: Joel Hanrahan making the All Star game, or him making it as a Pittsburgh Pirate. Either way, Norwalk's finest was more than deserving. He's tied with four other guys for the NL saves lead at 24, but Joel is a perfect 24-24. The other guys have all blown at least one.
The Pirates are a nice story. But after watching nearly 8 years of Clint Hurdle magic in Denver, be warned that a fall is probably coming. Save the miracle year of 2007 his teams always tend to tail off late and, lets be honest, they are the Pirates. Either way, you have to wonder if Hanrahan will be on the market. The Pirates aren't going to contend for the division, they'd just probably like to finish .500 for the first time in 19 years. Even if that is in play, could they really afford to hang on to Joel if some contender offers a great package at the trade deadline? Hanrahan has said he wants to stay with the Bucs. Stay tuned.
As for the rest of the All-Stars: Starlin Castro is the right pick for the lowly Cubs. No Pujols is less a snub and more an acknowledgement of his injury. How in the hell is Paul Konerko not on there (and I fully expect him to win the fan vote)? And why did the players elect Chipper Jones (feeling sentimental that it might be his last year?). I shall be voting a few hundred times for my favorite player, Todd Helton, in the last man in.
Perhaps the I-Cubs should be promoted and the C-Cubs demoted?
The Iowa Cubs closed out the mother of all homestands with an 8-1 win over New Orleans. The I-Cubs have now won ten of their last eleven and finished the season long 13-game homestand 10-3.
Brings up an interesting question.....are the I-Cubs better than the C(hicago)-Cubs? Joking aside the answer is obviously no, but the thing ya have to like about minor league teams is that those guys are going all out in every game because they want to make it to the Show. When a major league team with underachievers and overpaid guys struggles, most of them start to tank it by July.
Bryan LaHair has quietly had a great season. 23 homeruns and 65 RBIs nearly equals his totals from last year and it's not even the All Star break. He hit a dinger Sunday that looked like it was going to sleep with the fishes in the Des Moines River. Unfortunately for him he'll probably never get a shot with the big Cubs anytime soon since it would be a shocker if they fail to sign a Prince Fielder or Albert Pujols type guy at first this off season. Has to kinda suck to be in that position.
One complaint about the I-Cubs games. STOP WITH THE KIDDIE POP MUSIC! I get that you want to be family friendly but I don't need to hear Justin Bieber or any other boy band every inning. The one that got to me Sunday night was when they started playing "Don't Stop Believing" by Journey, except it was from a kiddie band that sounded like they were 12 years old. I swear to God if I hear Rolling Stones, Beatles, or Bob Seger songs covered by some flavor of the month kiddie pop band I will personally go over to the music booth at Principal Park, unplug all the cords, and chuck the stereo system into the Raccoon River.