(Zach)
As I was running the WHO Sports ship solo tonight (though our intern Tad was in Newton for the race and worked his butt off as well), shooting a few events, and trying to navigate through some technical difficulties, I didn't get to follow the Iowa Corn Indy 250 too closely. I kinda wish I could have been there. Racing on live TV bores the heck out of me. Being there in person is really fun.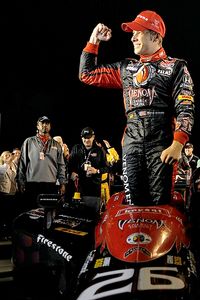 My initial impression-how the hell did an Andretti go 78 races and five years without a win?
On a night when there were plenty of wrecks, Marco Andretti made a bold move to pass Tony Kanaan on lap 232. As a guy who knows a thing or two about belated gifts, nice post fathers day treat for his dad Michael.
Several years in and I still don't know what Go Daddy does. Guess I get distracted....
Danica Patrick finished 10th and, from what I saw, never really was in contention. It's hard to get a read on her. Over-hyped? Certainly, but most figures in pro sports are anyway. Frankly, I like her attitude. She is sassy and has a bit of swagger/arrogance in her. I think if you're going to be in that spotlight, and going to be a champion, you need to have that. Now she just needs to win a bit more. Won't get any easier going forward. This is probably her last appearance in Iowa with Indy Car before she heads to the Nationwide Series.
Ana Beatriz, Mike Conway and points leader Will Power all threw out first pitches at the I-Cubs game on Wednesday night. All three wrecked and were DQ'd Saturday (Conway and Beatriz actually wrecked with each other). The curse of Cubbie Bear I guess.
Bet Cubbie wouldn't have wrecked
Darwin Barney made his rehab start with the I-Cubs and went 1-3 in Iowa's win over the Albuquerque Isotopes. I like the Barney story. Not necessarily a top prospect, but a guy who worked his way up to become a pretty good player in the bigs. Hard not to root for him, and if the Cubs are ever going to contend for anything meaningful again, they need to take a page from other teams and get more of their homegrown talent to produce on the big stage rather than dole out terrible deals to fading veterans.
Speaking of the Cubs.......well lets just not speak of the Cubs. To quote the sage Homer Simpson: "that team sure did suck last night. They just plain sucked! I've seen teams suck before, but they were the suckiest bunch of sucks that ever sucked!"
Jim Hendry is offering this guy 42 Million for 4 Years
Saw a trailer for the movie "Moneyball" (
http://www.youtube.com/watch?v=AiAHlZVgXjk
). I'm somewhat interested in seeing it, partly because I'm curious how much Hollywood will embellish the story. It's based on the 2002 Oakland A's that were built on Billy Beane's sabermetric approach. While they won 20 games in a row at one point that year, they also had been a playoff team prior to that year, and subsequently lost in 5 games in the ALDS to another financially strapped winner, Minnesota. Beane is the hero of the movie, but it's not been a great run of late in real life. The A's have fallen on hard times on the field and in the ticket counter (actually trying to move to San Jose), and Beane has made several bad deals that seemed to go counter to his "Moneyball" philosophy. Though I doubt it would happen, how weird would it be if the movie about Billy Beane's baseball genius came out AFTER Beane just got canned?